Image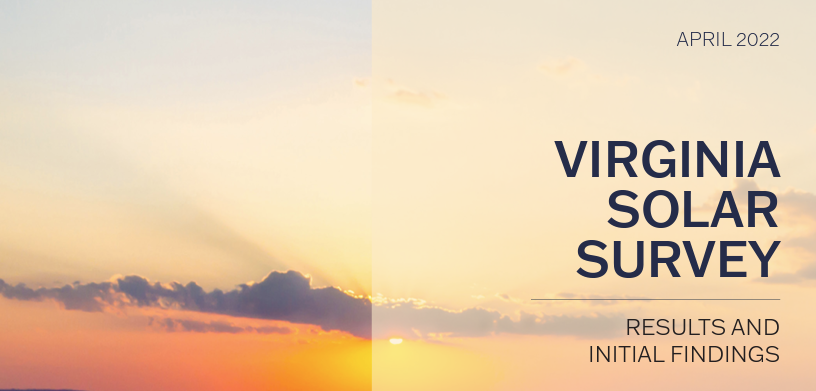 The Virginia Solar Initiative and the Virginia Department of Energy developed and conducted a statewide survey to better understand the barriers that local governments and localities face in implementing solar development. The first of its kind in Virginia, the Virginia Solar Survey is a comprehensive questionnaire that collects data on solar readiness, policy, and solar and energy storage experience.
The Virginia Solar Survey was designed to do the following:
collect and reveal comprehensive regional and statewide solar development trends
understand the perspective of local governments
gather information to better support research, programming and resources for localities, the solar industry and others impacted by the growth of this sector. 
The survey was distributed online to all 95 counties and all 38 independent cities in Virginia between July 13 and August 13, 2021. With 109 out of 133 localities completing the survey and all geographic regions of the Commonwealth represented in the data set, the high response rate of 82% gives confidence that the results reflect statewide trends and patterns.
Download the Solar Survey Report
Read the Complete Results
Purpose and Value of the Solar Survey

Virginia is on a path of clean energy transition, which includes increased energy efficiency, electrification of energy services, continued nuclear energy generation and deployment of various renewable energy sources such as offshore wind, energy storage and solar energy technology. Solar development will play an increasing role in delivering low-cost reliable energy, reducing reliance on fossil fuels and meeting increased demand for renewable energy. Market forces, demand for renewable energy and policy will continue to drive solar development.

In Virginia, the permitting and siting of solar energy and energy storage facilities is heavily informed by local governments. Therefore, to realize the full potential of solar energy development in Virginia, it is important to understand and support the solar experience, concerns and priorities of local governments. To date, there has not been a single, centralized source of this information.

Selected Results & Resources

Acknowledgments

To ensure the relevancy and quality of the questions asked, the questionnaire was developed with input and guidance from a stakeholder group including representatives from the Virginia Department of Environmental Quality (DEQ), Virginia Association of Counties (VACo), Virginia Association of Planning District Commissions (VAPDC), The Nature Conservancy, The Berkley Group and SolSmart. It was beta-tested by eight localities across Virginia.